Registration opens for September 9 Conservation Bus Tour of Knox, Waldo Counties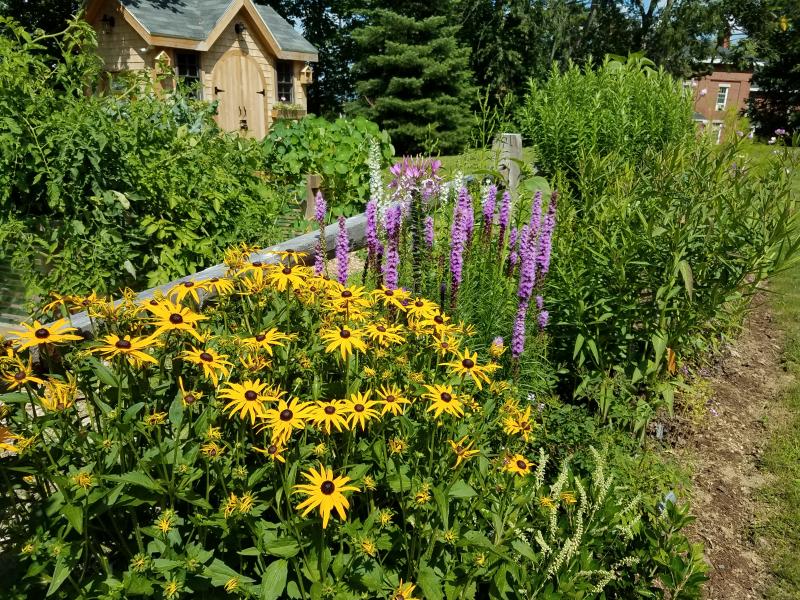 The Conservation Bus Tour that travels through Knox County has expanded into Waldo County. This year, Knox-Lincoln SWCD is partnering with the Waldo Soil & Water Conservation District (SWCD) to showcase five residential properties and one public park that have achieved certification under its Conservation Landscape Certification program. This program was created by Aleta McKeage of Waldo SWCD, and Rebecca Jacobs of Knox-Lincoln SWCD expanded the program to Knox and Lincoln counties.
Featured on the September 9 bus tour, you'll see beautiful landscapes enhanced with native plants, meadows, perennial gardens, pollinator gardens, and wildlife habitats. The journey by luxury air-conditioned coach will be narrated, snacks will be served and the group will have lunch at The Hoot, a gourmet farm-to-table restaurant in Northport.
The tour begins with a residential property in Rockport where a dedicated participant in the Conservation Landscape Certification Program has worked to meet requirements in the following five main criteria areas: providing wildlife habitat, practicing soil and soil conservation water, controlling invasive plant species, planning and planting for the ecosystem. support and implement organic and integrated pest management practices.
With an eye on design, the second destination is a stop of a private residence where the owners have not only brought an old property in downtown Rockland back to life over the past 30 years, but they have also shown how the Modern technologies can be retrofitted into older homes and properties while retaining historic character and charm. This urban oasis boasts a small orchard, perennial/shrub borders, patio and more with sensitivity to all wildlife, not just humans.
On the way to Belfast, the group will stop for lunch at The Hoot, a farm-to-table restaurant that sources the vast majority of meat from their family farm, Breludin Farm. The owner/manager will provide a brief introduction to the exclusive limited lunch menu for the event and their philosophy with the farm-to-table approach.
After lunch, the tour will travel to Wales Park in Belfast which has been transformed over the past two years from a little-used stretch of grass into a thriving eco-landscape. It now has a beautifully designed community garden that includes a University of Maine certified pollinator garden developed by many expert gardeners and professionals.
"This beautiful demonstration garden includes many of the important habitat features required for beneficial insects and other wildlife, including an abundance of native woody and herbaceous plants that provide food. Ornamental, the plants bloom during each month of the growing season and provide winter shelter and habitat for wildlife," KL SWCD said in a press release.
The penultimate stage features the first family to pilot our Conservation Landscape Certification program. They have done many projects on their several acres of woods and lawns in Belfast. Their property includes gardens with a wide variety of native plants as well as forest stewardship for wildlife and demonstrates many things that can be done on a small plot in an urban setting.
The final stop is at the property of Waldo County's most recent Environmentalist of the Year award recipient. The owner has diligently transformed her acres of fields, wetlands and riverbanks into a healthy native ecosystem over several years. The land was once choked with invasive plants including multiflora rose, purple loosestrife, Norway maple and exotic honeysuckle. Working with a tractor and cutting by hand, the homeowner has largely rid her landscape of invasive plants with few chemicals, allowing native plants to make a big comeback. She has worked to create a grassland landscape in her fields and wetlands that supports pollinators, birds, mammals and wildflowers. His reward was many hours of wildlife viewing as a variety of creatures returned to land.
Pre-registration is required by August 30. The cost of the tour is $50 per person (mail-out) / $52 (online) and includes all meals and travel. To request more information or to register for the tour, contact Julie at 596-2040, [email protected], or register online at https://www.knox-lincoln.org/2022-conservation-bus-tour.
Knox-Lincoln SWCD is an equal opportunity employer and supplier.