Registration is now open for the 64th Polyurethane Technical Conference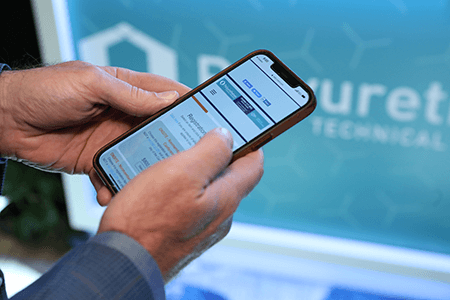 WASHINGTON (May 12, 2022) – Join leading polyurethane industry professionals and experts from across the country Oct. 3-5 at Gaylord National Harbor in National Harbor, Md., for the 64and Polyurethanes Technical Conference, the oldest polyurethane conference in North America. The conference, hosted by the American Chemistry Council's Center for the Polyurethane Industry (CPI), will showcase creative applications and the latest innovations in polyurethane chemistry. Registration for the Conference is now open.
"We celebrated a successful return to in-person meetings at last year's Polyurethanes Technical Conference, and we look forward to building on this momentum in 2022," said Lee Salamone, Principal, CPI. "Collaboration is imperative to solving many of today's most complex and pressing issues, and the Polyurethanes Technical Conference plays a pivotal role in cultivating the relationships needed to strengthen our industry's impact on creating a sustainable future."
The Polyurethanes Technical Conference offers an excellent range of technical sessions designed to showcase the most relevant regulatory topics and trends facing the industry, including the latest innovations, advances and applications for polyurethanes, and end-use markets. final ranging from automotive and construction to coatings, adhesives, sealants and elastomers. The conference also offers a variety of networking and professional development opportunities for attendees.
"It's great to see months of planning culminate in such an important conference that offers the industry's best and brightest ways to showcase their life-changing innovations and discuss the most pressing regulatory issues," said said Cynthia Graham, Huntsman, chair of this year's conference. "This year's programming offers attendees not only exceptional networking opportunities and analysis, but also deep insight into the variety of ways polyurethane chemistry is critical to helping build a better, cleaner future."
In addition to discussions on sustainability, emerging technologies and markets, and regulatory information, this year's Polyurethanes Technical Conference will also feature the publication of the 2021 Market Research on the End Use of the Polyurethanes Industry in the United States, Canada and Mexico. This survey, which normally covers two years of data, will provide results from 2019, 2020 and 2021 and an analysis of the impacts of the COVID-19 pandemic on the market. This year's conference will also offer a partial return of the in-person Professional Development Program (PDP), offering some courses online and others at the conference.
To learn more and register today, Click here for more information.
On Twitter? To follow @amchemistry and use the hashtag #PolyCon22 to join the conversation. Follow our LinkedIn page for the latest news, ideas and insights.