Evaluation and comparison of three virucidal agents on the inactivation of the Nipah virus
Determination of cytotoxicity
To determine the minimum dilution of MCP and FWD that does not show cytotoxicity for Vero E6 cell monolayers, four dilutions of MCP and FWD (5%) and two dilutions of Medical EtOH® were performed in cell culture medium . MCP, FWD and Medical EtOH® dilutions were added to Vero E6 cell monolayers in three replicates and incubated at 37°C with 5% CO2. Each treated cell monolayer was examined by light microscopy to assess cytotoxicity daily. The results showed that no obvious cytotoxicity was demonstrated in cell culture media at a 1:500 dilution of MCP and 5% FWD, when these disinfectant solutions were removed from the monolayers after 1 h of incubation. . Only a slight cytotoxic effect was caused by treatment with medical ethanol at a 1:10 dilution, and this effect disappeared after the treatment was removed from the monolayers and the cells were re-fed with fresh DMEM with 2% FBS medium overnight (Table 1).
Virucidal efficacy results for Nipah virus
Different disinfectant concentrations and contact periods were evaluated to observe the dose-response and temporal kinetics of Nipah virus inactivation. We exposed Nipah virus for 15 s, 30 s, 1 min, 2 min, 4 min, and 8 min to two QAC disinfectants at final concentrations ranging from ~5% to ~0.06% (undiluted to diluted at 1). 1:81 dilution, a threefold serial dilution scheme). Each disinfectant tested was effective in inactivating Nipah virus (Table 2).
The results show that the dual QAC disinfectants, MCP and FWD, are highly effective in inactivating Nipah virus within 15 s of contact time, even when diluted 1:9 (Table 2 and Fig. 1) . The virucidal activity of FWD was found to be superior to that of MCP. For example, FWD diluted up to 27 times completely inactivates Nipah virus within 15 s, while MCP at the same concentration requires 1 min to completely inactivate Nipah virus. Neither of the two QAC disinfectants completely inactivated Nipah virus when diluted 81-fold (5%/81, ~0.06% final concentration), even after 8 min of contact time. But the reduction factor (Logten) of FWD (5%/81.8 min) was superior to that of MCP assessed at the same concentration and contact time, again indicating the superiority of FWD over MCP in inactivating Nipah virus.
QAC disinfectants generally must be diluted before use and therefore the stability of virucidal activity of diluted and undiluted disinfectants must be assessed. We therefore evaluated the virucidal efficacy of undiluted CAQ or the same disinfectants after dilution and holding for one week at room temperature (RT) (MCP-1W and FWD-1W, Table 2 and Fig. 2). Our results showed that the virucidal efficacy of MCP was similar and that it can be effective against Nipah virus in the same way as the immediately diluted, although the RF of it was slightly decreased. The virucidal effect of FWD decreased a little after being kept for a week at room temperature, but it can still inactivate the virus when we used the disinfectant with the same concentration and maintained a longer contact time.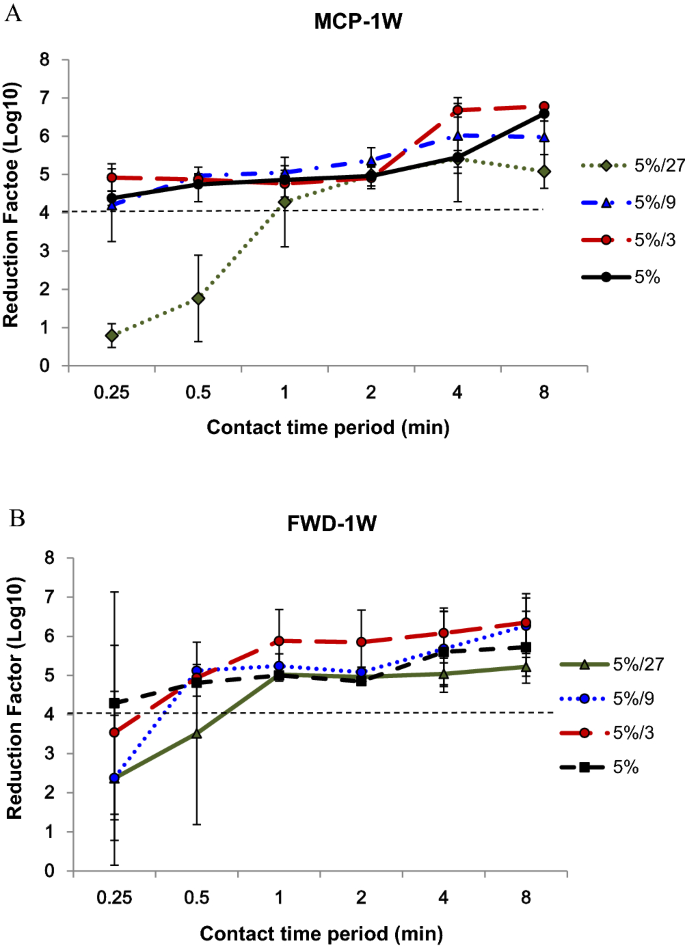 Comparing the above results, we found that the virucidal activity of FWD is a little better than that of MCP against Nipah virus, but some effective ingredients to inactivate Nipah virus in FWD are not as stable as the MCP.
Alcohols have rapid bactericidal activity and are also fungicidal and virucidal, but the degree of effect depends on the percentage concentrations of the alcohol and the physical properties of the target microorganism. Based on previous in vitro studies, 60% to 90% v/v solutions were effective with a short contact time and the microbicidal activity of alcohol was significantly reduced at concentrations below 50% v/v24. However, some studies have shown that ≥30% v/v reduces SARS-CoV-2 titers by at least 4 Logten within 30 sec25.26. So far, none of the publications have reported detailed studies on the effectiveness of various concentrations of ethanol against Nipah virus. Our result showed that 38% ethanol was able to completely inactivate Nipah virus immediately (within 15s) and 19% ethanol was also able to inactivate Nipah virus, but sufficient contact time is required (more than 8 min) in the suspension test (Table 2 and Figure 1C).
Based on the above data, we compared the inactivation profiles of three disinfectants against Nipah virus (Table 2). QAC disinfectants (MCP and FWD) exhibit the somewhat dose-dependent pattern of Nipah virus inactivation. That is to say, the best inactivation effect is shown when the disinfectants are used at a higher concentration and with a longer contact time, and it seems that sufficient contact time is more important at a concentration greater than 0.06%, especially when diluted and stored for a week.
We used the integrated cell culture real-time PCR method to validate the inactivation effect of Nipah virus in this study, not to directly detect residual virus. The general process is the same as described in our previous study25. Briefly, we pretreated the virus with disinfectants and then inoculated host cells with the virus-disinfectant mixture (containing inactivated viruses and infectious viruses). The non-infectious viruses were eliminated after elimination of the dilutions of the virus-disinfectant mixture. Then the cells were covered with fresh medium. Subsequently, the cells were incubated for a period optimized to amplify intracellular viruses. Finally, CPE was observed 4 days post-infection and viral nucleic acids were extracted from cell culture supernatant and used for one-step real-time RT-PCR with Nipah virus-specific primers to quantify titer. of infectious virus after virus inactivation treatment. The results showed that the CPE of the cells infected with the virus-disinfectant mixture was consistent with the RF results (Table 3).
We evaluated the virucidal activity of MCP, FWD and medical ethanol against SARS-CoV-225 and Ebola virus in previous studies, and here we determined the virucidal effect of these agents against Nipah virus. We summarized and compared all of the data in Table 4. Our results show that all three disinfectants exhibited effective inactivation of these emerging challenge viruses: SARS-CoV-2, Ebola virus, and Nipah virus (Table 4) .
As a commercial disinfectant, MCP showed fairly good virucidal activity against all three emerging viruses, and is more stable than FWD which is also a QAC disinfectant. For example, when FWD diluted with the same concentration was stored for a week at room temperature, a longer contact time was required to inactivate the viruses. Compared to MCP, FWD is somewhat more effective at inactivating these emerging viruses, especially at the lower concentration against SARS-CoV-2 and Nipah virus. For example, FWD at the concentration of 0.19% (5%/27) inactivated Nipah virus and SARS-CoV-2 rapidly (less than 1 min), while MCP at the same concentration put more 1 min to inactivate these two viruses. Medical ethanol showed similar inactivation profiles against all three emerging viruses. It was surprising that 20% medical ethanol completely inactivates the Nipah virus, although more than 8 minutes of contact time was required in this case.
These data suggest that inactivating Ebola virus may be more challenging than inactivating SARS-CoV-2 and Nipah virus. FWD with the same concentration (diluted 9× or more) required longer contact time to inactivate Ebola virus than SARV-CoV-2 and Nipah virus, and virucidal activity of diluted MCP maintained for one week at room temperature (MCP-1W, diluted 3× or more) showed a similar result. This indicates that these QAC disinfectants should be freshly diluted for Ebola virus inactivation. Comparatively speaking, the Nipah virus might be the most sensitive virus among these emerging viruses to inactivation by the three disinfectants.